Sharing Can Be More Charming
Monday, 18 February 2013
I criticised Pouch for making sharing articles a two step process, when it could be just the solitary one. In fact, this can sometimes be three steps. But, this isn't anything Pouch has any control over. That's because a hyperlink's context menu in Metro IE doesn't give you an option to share it. As a result, you can only share an article if you're viewing it. This is annoying as it means even if you have no intention to read an article right away, you must still click on its link in order to send it to your Pocket.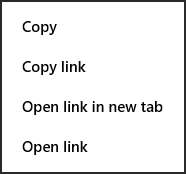 Context menu for links on Metro IE
On Chrome, I usually scan a page for links that I may be interested in reading. Once one is identified, it's sent to my Pocket without ever needing to leave the page. In Metro IE, I'd either need to open any link of interest in a new tab and share it from there, or open it in the same tab, share and go back to the main page to repeat the process for additional articles. In other words, something that's pretty straightforward to accomplish on a PC becomes something of a chore on the Surface.
---
I think it's extremely clever that the Share charm is universal. It really does increase the perception that apps are deeply integrated into Windows 8, making the combination of apps and operating system feel like a single entity. Additionally, a predictable location means no time is lost trying to locate where to share from when on any app. However, in the name of productivity, I think it's reasonable to duplicate the availability of the Share charm where it makes sense as a contextual access point.